ABOUT
Hello!!!!
I am an artist. I was a teacher for Grades 1 to 12.  I taught Fine Art in High School and at the University Level. 
Enjoying a  lifelong passion of artistic pursuits, these experiences evolved into my imaginative creations of clothing for all sized women.

Women's comments include: "stunning designs, elegant, unique, striking fabrics, comfortable, versatile, flattering, FUN!, easy and effortless, sophisticated, casual, dressy, reasonably priced, all occasion, ideal for travel, always look and feel fabulous, easy to wear, timeless"

I sell now only at highly juried BC Markets, Fashion Shows for women's events, online and out of my studio.
---------------------------------------------------------------------------------
Other information follows IF you want to read a lot more... here it is: :)
----------
 I AM A CANADIAN BORN ARTIST WHO NOW CREATES TIMELESS, ETHICAL AND VERY WELL MADE CLOTHING.  I AM A ONE WOMAN BUSINESS!  I CHOOSE TO MAKE VERY SPECIAL PIECES THAT YOU WILL PROUDLY WEAR.  I WORK SLOWLY, CAREFULLY AND LOVINGLY ON EACH INDIVIDUAL GARMENT.  
I CREATE FOR EVERY SIZE WOMAN.. PETITE, PLUS, TALL, CURVY.  I WANT YOU TO ROCK -YOUR- BODY IN MY CLOTHES.  I TRULY BELIEVE THAT EVERY SIZE IS BEAUTIFUL AND EVERY PIECE IS ALWAYS MADE WITH LOVE PERSONALLY BY ME.
MY INTENTION IS TO CREATE GARMENTS  THAT ARE UNIQUE, FLATTERING AND  EVERYDAY EXTRAORDINARY.  MY GOAL IS THAT YOU CAN RELAX IN YOUR BODY AND FEEL TOTALLY ALIVE, GORGEOUS AND VERY COMFORTABLE.  LOOK IN THE MIRROR AND FEEL GREAT!  YOUR CHOSEN GARMENTS ARE VERSATILE AND TRAVEL WELL AS MOST ARE LIGHT AS A FEATHER.  
WOMEN PURCHASE MY LINE FOR SPECIAL OCCASIONS, STREETWEAR, CRUISE WEAR, STAGE PERFORMANCES BY BOTH ACTORS AND SINGERS, MOTHER OF THE BRIDE OR GROOM AND I HAVE SHIPPED LITERALLY ALL OVER THE WORLD.  MY GARMENTS HAVE OFTEN BEEN WORN AT THE VANCOUVER FASHION WEEK (I HAVE BEEN ASKED REPEATEDLY TO SHOW AT THE VFW) AND EVEN HAVE TAKEN THE STAGE AT THE AUSTRALIAN FASHION WEEK.  
YES, MY ULITMATE DESIRE IN MY ONE OF A KIND KOME LINE, IS TO HAVE SOMETHING FOR EVERYONE .... WHICH INCLUDES NOT ONLY HUNDREDS OF GARMENTS IN MY STUDIO BUT, ALSO BUDGET SALE ITEMS ARE ALWAYS AVAILABLE TOO.

  ——-
MY STUDIO IS IN A VIBRANT STUDIO BOUTIQUE IN NORTH VANCOUVER.  I CREATE EVERYTHING THERE, FROM START TO FINISH.  I MAKE EACH GARMENT MYSELF, ONE BY ONE, WITHOUT USING SEWING PATTERNS SO THAT EACH PIECE IS ORIGINAL AND MY LINE IS EVER CHANGING.  I CHOOSE TO NOT SELL TO STORES SO THAT I CAN KEEP MY LINE AFFORDABLE.
I AM OPEN EVERY FIRST SATURDAY OF THE MONTH FROM 12 TO 4 AND ABSOLUTELY EASILY ANY TIME AT ALL WITH A TEXT, MESSAGE OR A CALL - 604-612-6070
 -------------------
AT MY KOME STUDIO, YOU CAN FEEL TOTALLY COMFORTABLE WITH NO OBLIGATION TO BUY.  MY LOVELY STUDIO IS INFORMAL, PERSONALIZED AND PRIVATE.  MY CREATIONS ARE AFFORDABLE, UNIQUE AND SO VERY COMFORTABLE.  TRY HUNDREDS OF ONE OF A KIND CREATIONS ALL DESIGNED, CUT AND SEWN BY KJAER.  THANK YOU FOR SUPPORTING A SMALL BUSINESS AND AN ETHICAL WAY OF SHOPPING.  I LOVE SILKS, RAYONS, BAMBOO AND STILL FIND SOME POLYESTERS I LOVE. I SUPPORT CANADIAN FABRIC COMPANIES WHEN I CAN.  I USE RECYCLED CLOTHING OFTEN AND RECREATE IT.  I ALWAYS DONATE SCRAPS TO ANOTHER SEAMSTRESS WHO USES EVERY BIT OF FABRIC FOR ALL SORTS OF CREATIVE IDEAS.  I GIVE BACK TO THE COMMUNITY BY DONATING TO THE LOCAL WOMEN IN NEED.  
-------------------------
BELOW: 
Written by Michael and Keiko Boxall for Japanese Web Magazine
THINKING ABOUT WHAT WOMEN WANT FROM CLOTHES, KJAER--A DANISH NAME, PRONOUNCED "CARE"--NELETIA PEDERSEN SAW A NEED AND SET ABOUT MEETING IT. 
"WOMEN OF ALL AGES AND SIZES WANT TO DRESS WITH STYLE, CONFIDENCE AND EASE," KJAER SAYS. "WE WANT TO LOOK GOOD AND FEEL FABULOUS." THE PROBLEM WAS FAMILIAR TO HER: HANDMADE ARTISTIC CLOTHES ARE USUALLY MADE TO BE WORN AT SPECIAL OCCASIONS, NOT EVERY DAY. SO SHE DECIDED TO CREATE A LINE OF TIMELESS, AGELESS, AND EVEN SIZELESS FASHION THAT IS BOTH ELEGANT AND AS EASY TO WEAR FOR EVENING, WORK AND TRAVEL AS IT IS FOR PLAY. THE RESULT WAS HER KOME LINE--STYLISH, UNIQUE AND RELAXED. 
SHE HAS BEEN AN ARTIST (AND ART TEACHER) ALL HER LIFE, A PASSION INHERITED FROM HER DANISH FATHER. SHE HAS DRAWN PORTRAITS IN CHARCOAL AND WORKED IN PAINTS AND PASTELS. SHE WAS ALSO A DEDICATED POTTER. BUT WHEN SHE BEGAN WORKING WITH FABRIC SHE KNEW SHE HAD FOUND HER TRUE MEDIUM. 
"THERE IS NO DOUBT THAT CLOTHING TRANSFORMS YOU, EMPOWERS YOU AND GIVES YOU JOY," SHE SAYS. IN FACT, MAKING PEOPLE FEEL GOOD IS HER MAIN MOTIVATION. IT'S A LOT OF WORK: AS WELL AS DESIGNING AND SEWING ONE-OF-A-KIND PIECES, SHE ALSO DOES HER OWN MARKETING. THESE DAYS A LOT OF SALES COME FROM HER WEBSITE.

"I FOCUS ON JACKETS, USING BAMBOO, RAYON, POLYESTER AND MY REAL LOVE, SILK. AS WELL AS DRESSES I MAKE RUANAS (A KIND OF OPEN-FRONTED WRAP) PONCHOS, TOPS, TANKS AND TUNICS."
RUNNING A ONE-WOMAN BUSINESS IS A CHALLENGE. SOURCING CAN BE A PROBLEM, AND KJAER TRIES TO USE CANADIAN SUPPLIERS WHEN SHE CAN.  SHE MOST ENJOYS BUYING MATERIALS IN SMALL QUANTITIES IN HER TRAVELS SO THAT EACH PIECE IS DIFFERENT.
"I WANT TO CREATE JOY IN MY CLOTHING LINE," SHE SAYS. AND REGULARLY SHE SUCCEEDS. "I SEE WOMEN AT MY SELLING EVENTS TRYING ON A PIECE AND LITERALLY DANCING."
-----------------------------------
KJAER NELETIA PEDERSEN OF KOME CLOTHING
          AND AS AN ARTIST AND AN ART TEACHER FOR GRADES 1 TO 12 - MOST RECENTLY TEACHING SECONDARY AND UNIVERSITY LEVEL ART... YOU CAN LOOK AT: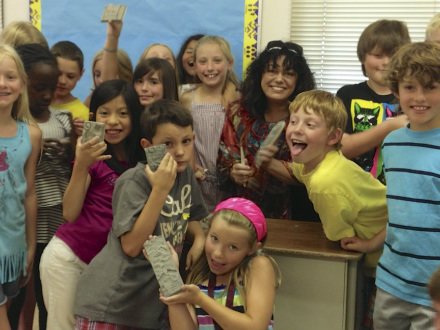 BY THE WAY... DO YOU KNOW THAT I CREATE EVERY SINGLE PIECE MYSELF... JUST FOR YOU

NOTE, AS AN ARTIST, I FIND THAT I AM FOREVER CHANGING. I AM NOW WORKING WITH DIFFERENT FABRICS, DIFFERENT DESIGNS.  I LIKE THE CHANGES THAT I HAVE MADE AND I LOVE THAT I CAN ALWAYS KEEP A SALE RACK IN MY STUDIO FOR YOU… SEE YOU SOON… EVERY FIRST SATURDAY OF THE MONTH FROM 12 TO 4 OR CALL FOR AN APPOINTMENT 604-612-6070

-----------------------------------