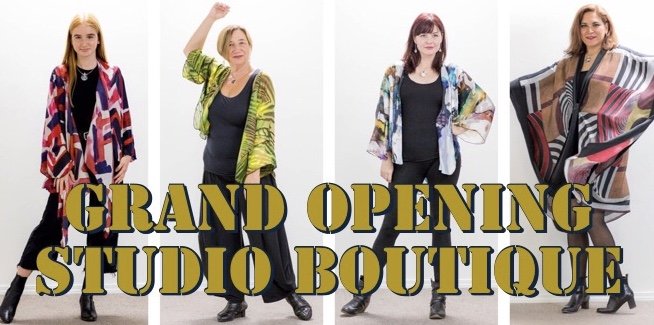 I am truly so very excited to invite you to my new studio! I LOVE this place and you will too!!! I will greet you with a happy smile… so grateful to have you take the time to come… I will reward you with water, wine, chocolate, cheese and crackers!!!
IF you are on my mailing list, look for your VIP invitation the week of the Grand Opening, otherwise, do message me now to receive your special $100.00 gift certificate from me to you! This can be used ONLY on this day and only if you are purchasing $300 or more before taxes. You might want to know, too, that I am even going to have greatly reduced items for your pleasure, and, yes, you can use the $100.00 gift.
This is a big deal to me and I want to pass on the joy and the money, too… part of my profits will support the North Shore Women's Centre. I look for organizations where 100% of my money goes directly to the people that need it. I would like you, too, to participate in this worthy organization that supports women and children locally in need. They need a few things right now. I understand that there is always a need for soap, shampoos and conditioners. They are happy to take 1/2 empty bottles, ladies! And those little soaps and shampoos we get when we travel.. priceless! When women are relocated, there is a true need for sheets! Yes, it is great if you want to buy new, but, even our sheets in our closets that we thought we would use… just package a gently used set of sheets … twin, double and queen are all needed. OH! … and toys! Yes, it is Christmas! Toys for the little ones, and I was told that gift certificates for teenagers are so very welcome. The kids seem to want to shop in "Winners". I am sure they would be grateful for any certificate, but, this one was suggested to me.
There will be a donation box at the bottom of the stairs to my studio for the heavier items, on Dec. 8, or come on up and pass what you want to give to the North Shore Women's Centre directly to Jeff or me.
Along with this, I want to offer another fund raising suggestion. I have quite a few scarves and headbands that a woman was sewing for me in exchange for some of my older fabrics. I usually sell these for $20.00. Buy one for five bucks and support a local charity. Yes… YOU donate $5.00 (or more:)) and every last cent will go to the North Shore Women's Centre. Please link here: https://www.facebook.com/events/348761505926730
I also want you to know, that even if you can't pick up your offered scarf or hair band on the day of the Grand Opening (this offer is pick up on December 8th only)… you can still link in and simply donate the $5.00 out of the goodness of your heart. It is going to a very worthy cause! Lets all be a little generous this season… a little can go a long way!
UPCOMING MARKETS as of the end of October 2018:
October 29th

 - Private Fashion Show in the Holiday Inn in North Vancouver
November 3

 - OPEN STUDIO - in my own brand new studio - 150 Pemberton Avenue - 12:00 to 4:00
November 23 - 25 - OUT OF HAND - Booth D-9 - Victoria - outofhand.ca   
 December 1 - OPEN STUDIO - in my own brand new studio - 150 Pemberton Avenue - 12:00 to 4:00                                   
December 8 - GRAND OPENING OF MY NEW STUDIO!!! - celebrating KOME and hope you will join me in this joyous occasion... food drinks prizes discounts balloons!!!! - check your newsletters for more upcoming information on this truly BIG event in my life 
My regular OPEN STUDIOS are always on the First Saturday of the Month from 12:00 to 4:00  - listed are the 2018 dates: January 6, February 3, March 3, April 7, May 5, June 2, July 7, August 4, September 1, October 6, November 3, December 1 
Anytime by appointment... 

text Kjaer at 604-612-6070

 - I am happy to open just for you any time if you prefer a private time with my undivided attention.. don't hesitate... relaxed studio and no pressure... come by and enjoy :) 
----------------
Annual North Vancouver Art Crawl

 - early March - northvanartscouncil

Annual Filberg Festival .- early August  - filbergfestival 

Art Of Fashion

 - early Aug - show/sale - Harmony Fashion Show 

Annual North Vancouver Culture Days

 - late September

Annual CIRCLE CRAFT CHRISTMAS MARKET

 - early November

  circlecraft.net

Annual OUT OF HAND MARKET

 - late November  outofhand.ca 

 Victoria



Have you met the talented local artist, Kjaer Neletia Pedersen yet. Kjaer is now designing and sewing beautiful one of a kind garments in her studio
Customers often use these words when describing the Kome Clothing Line: 
- artistic - vibrant - timeless appeal 
- exquisite - fun - fabulous - fashionable
- luxurious - simple - classic - affordable
- easy to dress up or down - effortless 
- sophisticated - unique - joyous 
- distinctive - flattering - comfortable 


Kjaer Neletia Pedersen is a graduate of the University of Guelph and Western University. She is an artist and an art teacher. Kjaer has taught Art at the high school and university level. She has owned her own pottery study, and was also Artist In Residence for four years working with community art and murals. Kjaer now creates one of a kind garments for all size women. Women, when they try on Kome Clothing, love how they look and FEEL!!!
NEW STUDIO ! -150 Pemberton Avenue, North Vancouver 

phone Kjaer at 604-612-6070 for an appointment at your convenience​
----------------------------------------------------------------------------------------------------------------------------
----------------------------------------------------------------------------------------------------------------------------